(Source: IPS)
The kings of Big Coal are making off with millions while their industry collapses.
Tough times in coal country haven't been so tough back at corporate headquarters, however. A new report from the Institute for Policy Studies reveals that top executives are making off with huge compensation packages, in many cases plundering their companies just before they collapse. Former Alpha CEO James Roberts took in more than $15 million in 2008 and 2009 before he retired. Peabody's former chief executive, Greg Boyce, pocketed $26 million in stock options during the four years before the industry tanked, and last year had a total compensation package of $11 million. Before the collapse in share prices many executives profited like Boyce from equity-based pay; now, coal companies are increasing salaries and cash bonuses to make up for poor stock performance. Arch Coal, the nation's second-largest producer, increased cash compensation for its top five executives by 94 percent last year.
Lawmakers in the Assembly gave final approval Wednesday to a measure that would require the state's public pension funds to divest from their holdings in thermal coal.
The measure by Senate leader Kevin de León (D-Los Angeles) would prohibit the state's public employees' pension fund, CalPERS, and the teacher's retirement fund, CalSTRS, from making new investments in coal companies. It also would require the funds to liquidate their existing investments in coal by July 1, 2017.
Senator Pat Toomey, shown in a file photo, is among several Republicans being targeted by environmental groups for their opposition to a first-of-its-kind federal carbon-emissions regulation. (APRIL BARTHOLOMEW / THE MORNING CALL)
Environmental groups are targeting Republican Sen. Pat Toomey and several other U.S. senators in coordinated ad campaigns aimed at those who oppose a recently finalized federal carbon-emissions rule.
The National Resource Defense Council Action Fund and Environmenal Defense Fund Action are spending $1 million on television and digital ads calling on Toomey to support the Clean Power Plan.
The Clean Power Plan rule, unveiled by Environmental Protection Agency last month, creates the first-ever national standards aimed at limiting carbon pollution. Pennsylvania power plants will be required to reduce their carbon emissions by nearly 35 percent by 2030
The ads are part of a larger campaign with other environmental groups, including the Sierra Club and the League of Conservation Voters, to target Republican senators who are facing reelection battles next year. Other ads take aim at Sens. Richard Burr of North Carolina, Rob Portman of Ohio, and Ron Johnson of Wisconsin, according to The Hill.
In a series of announcements over the weekend and on Monday, the Chinese government took several important steps to control emissions from shipping activities, which until now have been virtually unregulated. Vessels and ports are major sources of the severe air pollution choking many coastal cities in China, which is home to eight of the ten busiest (and most densely populated) port cities in the world in terms of freight volume.
First, the National People's Congress adopted a number of amendments to China's 15-year old Air Pollution Prevention and Control Law. Among other things, these provisions, for the first time, provide a clear legal foundation for the government to tackle shipping emissions.
Shopkeeper Habib Noor, who was arrested by US special operations forces and beaten by Zikria Kandahari, looks at his Afghan identification card in his shop in Wardak province, Afghanistan on Wednesday, May 15, 2013. Noor said his fingerprints and eyes were scanned before he was taken away. (AP Photo/Anja Niedringhaus)
Exclusive video: "I saw with my own eyes that they killed people."
The US military has reopened a criminal investigation into some of the most serious accusations of war crimes against US forces in Afghanistan since 2001As The New York Times reported last week, , the Army's Criminal Investigation Command will again investigate allegations that a Special Forces team was involved in the murders of at least 17 civilians in Afghanistan in 2012 and 2013. The question now is why the investigation has dragged on for so long—and whether there has at any point been a coverup by members of the military.
British MP Jeremy Corbyn has proposed a "People's QE" that has critics crying hyperinflation and supporters saying it's about time.
Dark horse candidate Jeremy Corbyn, who is currently leading in the polls for UK Labour Party leadership, has included in his platform "quantitative easing for people." He said in a July 22nd presentation:
"The 'rebalancing' I have talked about here today means rebalancing away from finance towards the high-growth, sustainable sectors of the future. How do we do this? One option would be for the Bank of England to be given a new mandate to upgrade our economy to invest in new large scale housing, energy, transport and digital projects: Quantitative easing for people instead of banks.
US Wall Street and the Military are Draining Americans High and Dry
[A scary summary. We must find smart ways to minimize public costs/deficits and debt at minimum public expense. Single-payer healthcare and pensions are obviously part of the solution. Public banks are obviously required too to end paying public debt interest to private banks.]
Bottom line, as of August 29, 2015, the government in the USA owes $46.1 trillion (bonds, unfunded pension costs, unfunded healthcare costs, credit card balances and loans).
The US government has paid wall street's way when wall street can't pay it's own way. Wall street has promised to pay more than the US government has promised to pay. $0.5 trillion in margin loans and $3.95 trillion in repurchase agreements pale in comparison to $21 trillion in open credit default swaps, a type of derivative. Bankruptcy legislation in 2005 gave derivatives "super priority" status to be paid first when banks go bankrupt. According to BIS, there were $630 trillion in outstanding derivatives earlier this year, about half in the USA. Since wall street doesn't have $315 trillion to pay their derivatives, who will pay this amount? And how? Even if only 15% of US derivatives go bad, that's $47 trillion. How would the US government pay for that? The derivative liabilities arising, due to ongoing wall street instability, is an elephant in the room.
US government officials, who I contacted, have not responded to questions about how they intend to pay for $46.1 trillion they owe nor have they responded to questions about what their contingency plans are to pay for wall street derivatives gone bad. The possibility exists that US government officials don't have plans in place to pay the $46.1 trillion they now owe or any plans in place for payment of derivatives gone bad.
In early 2011, 1.5 million American households, including 3 million children, were living on less than $2 in cash per person per day. Half of those households didn't have access to in-kind benefits like food stamps, either. Worst of all, the numbers had increased dramatically since 1996.
(Credit: AP/Denis Poroy/Timothy D. Easley/John Minchillo/Photo montage by Salon)
Which 2016 GOP candidates are lining up behind a Kentucky clerk's illegal and discriminatory behavior?
The attacks are by no means isolated to the east. On August 24, arsonists in Weissach im Tal in the western state of Baden-Württemberg burned down a building that was to be used to accommodate asylum-seekers. (DPA)
This year has seen a sharply increased number of attacks on asylum hostels in Germany, many of them perpetrated by right-wing extremists. Officials are concerned that neo-Nazi networks may be spreading across the country.
Viktor Orbán attacks EU immigration policy as misguided, warning that influx of Muslim refugees poses threat to Europe's Christian identity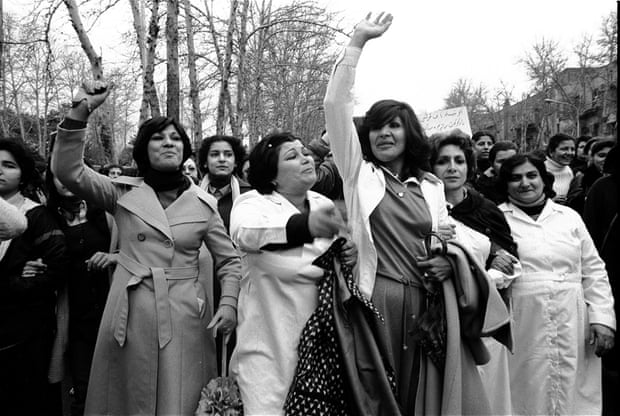 Iranian women protesting against the Hijab law in Tehran in 1979. Photograph: Hengameh Golestan
Iranian women protesting against the Hijab law in Tehran in 1979. Photograph: Hengameh Golestan