In the Golden State, the uninsured are getting covered and costs are staying low, which is bad news for GOP critics
The Affordable Care Act suffers from a condition that afflicts all controversial legislative achievements: its failures are closely scrutinized and widely covered, while its successes go largely unnoticed. This imbalance is understandable in some ways – "Law Functions As Planned" isn't as exciting a story as "Law Flops In Embarrassing Faceplant Hah Hah Let's All Point And Laugh." And so for the Affordable Care Act, the media spotlight over the years has been aimed at its hiccups and snafus: the crashing website, the conservative legal challenges, the endless repeal votes in Congress, the dire (usually unsubstantiated) warnings of skyrocketing premiums, etc. But while the glitches get all the ink, the Affordable Care Act has been racking up some significant accomplishments.
For two years now, the Kaiser Family Foundation has been tracking the experiences of a large group of California residents who were uninsured prior to the ACA's first open enrollment period in 2013. As Kaiser's initial report on their long-running survey explains, they chose California because it offers ideal conditions for testing the law's efficacy:
The 50th anniversary of Medicare is a reminder that this program needs to be stronger to meet today's challenges.
Vermont Senator Bernie Sanders and Maryland Representative Donna Edwards joined the rally celebrating the 50th anniversary of Medicare in Washington, D.C. this Thursday with several hundred nurses, health care workers, and labor allies.
The familiar Sanders crusade to fix financial inequalities is a key reason Sanders says he supports a single-payer system and promised to announce legislation within the next year. "We need to expand Medicare to cover every man, woman, and child," he told the cheering crowd. "Every year, thousands die just because they can't afford to go to the doctor. No one should go into the hospital and have to file for bankruptcy when they come out." The Sanders plan, he said, will provide healthcare through the most "cost effective way, and that is a Medicare for all."
Recent suggestions from Republican Party presidential candidate Jeb Bush that Medicare should be phased out has lead to linguistic punches from many progressive thinkers including economist Paul Krugman, who wrote this week "It's the very idea of the government providing a universal safety net that they hate, and they hate it even more when such programs are successful."
In the past decade, the Susan Thompson Buffett Foundation has become the most influential supporter of research on IUDs and expanding access to the contraceptive
In the past decade, the Buffett Foundation has become, by far, the most influential supporter of research on IUDs and expanding access to the contraceptive. "This is common-sense, positive work to help families meet their dreams and their needs in planning their pregnancies," says Brandy Mitchell, a nurse practitioner who coordinates family planning at Denver Health, a state-run provider. "Why we have to rely on a donor to make this happen is beyond belief."
Quietly, steadily, the Buffett family is funding the biggest shift in birth control in a generation. "For Warren, it's economic. He thinks that unless women can control their fertility—and that it's basically their right to control their fertility—that you are sort of wasting more than half of the brainpower in the United States," DeSarno said about Buffett's funding of reproductive health in the 2008 interview. "Well, not just the United States. Worldwide."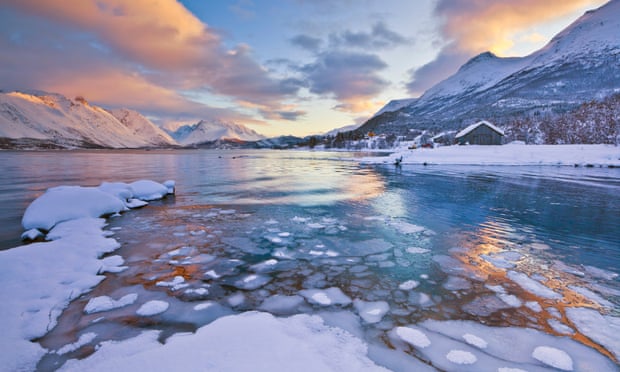 Looking across the frozen sea of Ullsfjord in Norway. Melting Arctic sea ice is one complicating factor in comparing modeled and observed surface temperatures. Photograph: Neale Clark/Robert Harding World Imagery/Corbis
The difference between modeled and observed global surface temperature changes is 38% smaller than previously thought
The World Bank said coal was no cure for global poverty on Wednesday, rejecting a main industry argument for building new fossil fuel projects in developing countries.
In a rebuff to coal, oil and gas companies, Rachel Kyte, the World Bank climate change envoy, said continued use of coal was exacting a heavy cost on some of the world's poorest countries, in local health impacts as well as climate change, which is imposing even graver consequences on the developing world.
"In general globally we need to wean ourselves off coal," Kyte told an event in Washington hosted by the New Republic and the Center for American Progress. "There is a huge social cost to coal and a huge social cost to fossil fuels ... if you want to be able to breathe clean air."
President will use all powers available to push through Clean Power Plan to cut carbon emissions from power stations, says White House
Obama is expected to unveil the new rules as early as Monday, according to those familiar with the Environmental Protection Agency (EPA) plan.
---
Though Canada's system is the second most expensive in the world per capita, it would save America $1.3 Trillion/yr and cover everyone
Dr. Peter Bach: Medicare has to pay exactly what the drug company charges. Whatever that number is.
Lesley Stahl: Wait a minute, this is a law?
Dr. Peter Bach: Yes.
Lesley Stahl: And there's no negotiating whatsoever with Medicare?
Dr. Peter Bach: No.
[All other OECD countries negotiate much lower drug & medical procedure costs]
Bishop of Dover pleads for PM to 'rediscover what it is to be human' as No 10 reveals a joint plan with France to boost security around Eurotunnel

Migrants who risk all in search of a better life are easy prey for people smugglers, whose unscrupulous activities have created a criminal industry worth billions

Campaign group criticises development strategies as research shows the number of millionaires in Africa has more than doubled since 2000

Predicted increase of 2.4 billion will complicate efforts to stamp out poverty, inequality and hunger and place further strain on health and education systems

David Cameron referred to a 'swarm' from Calais. But migration is happening across the globe, and the motives are more complex than stereotypes suggest

This is not a British problem. It is a European problem and a North African one and a Middle Eastern one. It is not going to be solved by a few miles of barbed-wire fencing or, as the prime minister emerged from Friday's "emergency meeting" to say, "more dogs".

[Are wars a stationary alternative to migration? To fix dysfunctional, corrupt governments without delay, we need to promote outsourcing of government functions to accountable (non-profit?) professional organizations w/ suite of best computer applications.]

Mark Wexler talks about the challenges of trying to end human trafficking, and how creating self-sustaining economic systems in underserved communities could be the answer

It was difficult to believe that human trafficking could be happening so close to home – but that's how forced labor works. It's pervasive. It preys on a community's vulnerabilities and blind spots. Perhaps most troubling, it afflicts the economically vulnerable.

Farmer Langsu Mumbelunga in his polluted field near the Mushishima stream, Zambia. Photograph: John Vidal for the Observer

In the villages near Africa's biggest copper mine, you can smell and taste the pollution. As a legal battle against metals giant Vedanta/KCM reaches London, villagers in Chingola, Zambia, tell of blighted lives and a looming catastrophe

Here's my question to the angry commenters: if racial inequality isn't merely a symptom of economic inequality, what is it a symptom of?

I already feel like I can hear the answer: it's a symptom of hundreds of years of slavery, colonialism, Jim Crow, and urban apartheid.

Yes. But what were slavery, colonialism, Jim Crow, and urban apartheid if not extreme forms of economic inequality?

What was the point of England's colonization of Ireland if not to impose a lucrative "economic inequality" on its victims? Was the urban apartheid of Haussmann's Paris not the "symptom" of nineteenth-century economic inequality?

And what exactly do you think all those African slaves were doing in the American South?

To appreciate the dumbing down of American politics, consider this: Conservative Republicans, indignant about abortion, are trying to destroy a government program that

helps prevent 345,000 abortions

a year.

Inevitably in politics there are good ideas and bad ideas. But occasionally there are also moronic ideas — such as the House Republican proposal to kill America's main family planning program, Title X.

The upshot would be more pregnancies, more abortions, more AIDS, more sexually transmitted infections and more women dying of cervical and breast cancer. Ending the program would impoverish young mothers and impede the formation of stable two-parent families that conservatives rightly argue help overcome poverty.

What does it mean to live a good life? What about a productive life? How about a happy life? How might I think about these ideas if the answers conflict with one another? And how do I use my time here at college to build on the answers to these tough questions?

....At the end of our sessions, I say to my group: "Tell me one thing you have changed your mind about this year," and many responses reflect a remarkable level of introspection. Three years later, when we check in with participants, nearly all report that the discussions had been valuable, a step toward turning college into the transformational experience it is meant to be.

Despite her campaign's attempt to paint the scandal as persecution, anyone who cares about government transparency and security should demand information

Republican candidates will take the stage on Thursday, with ratings expected to soar as Americans tune in to see what the frontrunner has to say

Americans embrace positive emotions & want to ignore the bad, while Chinese culture values "balance"

[But if you ignore the bad, then the bad may continue or worsen]

According to studies in cross-cultural psychology, the kind of emotional life people want varies a lot from culture to culture. In the West, we tend to assume that everybody wants what we do: to optimize for our own happiness, enthusiasm, and excitement. People from east Asian cultures tend to value calm, relaxed, and peaceful experiences over "exciting" ones. Psychologists say this difference is expressed in social behavior. One example is that, in a study, Asian participants were more likely to favor calm classical music over more exciting classical music that was louder or faster-tempo. Another example is that the drugs most commonly abused in the United States are stimulants, like cocaine and amphetamine. In China, they're opiates like heroin.
Presidential candidates offer preview of potential 2016 general election matchup as Clinton serves up sharpest criticisms yet in Bush's home state

Speaking before the National Urban League conference in Fort Lauderdale, Clinton used the platform to serve up one of her sharpest criticisms of Bush, who served as Florida governor from 1999 to 2007.

"I don't think you can credibly say that everyone has a right to rise and then say you are for phasing out Medicare and repealing Obamacare," Clinton said, in a direct jab at Bush's "Right to Rise" political action committee. "People can't rise if they can't afford healthcare."

"They can't rise if the minimum wage is too low to live on," she continued. "They can't rise if their governor makes it harder for them to afford a college education. And you cannot seriously talk about the right to rise and support laws that deny the right to vote. So yes, what people say matters, but what they do matters more."

Clinton has taken shots at Bush on the campaign trail before, but never as extended and plainspoken as her suggestion on Friday that the former Florida governor's outreach to the same group amounted to mere lip service. Bush did not respond or make any any references to Clinton in his own speech, although his campaign hit back quickly on Twitter.

The zealots pushing a horrifying vision of "religious freedom" really have in mind a new Biblical slavery

Reconstructionists aim to establish a theocracy, though most would no doubt bristle at that description. They do not want to "take over the government" so much as they want to dismantle it. But the end result would be a social order based on biblical law—including all those Old Testament goodies like stoning gay people to death, while at the same time justifying "biblical slavery." These extreme views are accurate, Julie Ingersoll explained, but at the same time quite misleading in suggesting that Reconstructionism is a fringe movement with little influence on the culture.

Scott Walker, David Koch, Jeb Bush (Credit: AP/Jim Cole/Phelan M. Ebenhack/M. Spencer Green/Photo montage by Salon)

The conservative billionaires are throwing a lavish party this weekend to decide which candidate they want to buy

People who regularly read my byline will recall that back in April I wrote about poor Scott Walker making a huge gaffe just as it seemed like the Koch brothers, his presumed benefactors, were ready to go all-in on his campaign. This resulted in a postponement of any endorsement in the GOP primary in favor of an "audition" among other candidates later in the summer.

Well, the big day is upon us. Politico reported this week that a handful of candidates have made the final cut and have been invited to make one last tryout for the starring role in the Kochs' big 2015 Summer Super-Pageant:

[blah blah blah]

The article stresses that the Kochs are not going to officially anoint their choice but their big checks, and those of their billionaire buds, are being closely watched for signs of who the "smart money" is betting on to come out on top. The current frontrunner Donald Trump was not invited, and according to this article is being actively blocked by the Koch network. Obviously, they think the eventual winner will be one of those four candidates (plus Carly Fiorina, for some reason.) Think about that for a moment. There are some extremely rich Republicans out there who think that Ted Cruz has what it takes to be president.

HEATHER DIGBY PARTON |

Salon

That New Hampshire focus group indeed made me sad. Its Obama-hating Trump admirers want a daddy, not a president

I guess I committed a textbook Kinsley gaffe on "Hardball" yesterday, when I inadvertently told the truth about what I think of the 12 New Hampshire Republican voters Bloomberg assembled to explain the Donald Trump phenomenon. (You can watch, below.) I said they made me "sad," and I made a comment about "the lowest common denominator" (more on what I meant in a minute) – and then my friend Michael Steele, the former chair of the Republican National Committee, had a lot of fun calling me an "elitist" and insisting people like me are why voters like that support Trump. Or something.

Republican presidential hopeful and 'pro-life doctor' Rand Paul speaks about Planned Parenthood, along with senators John Cornyn and John Thune. Photograph: Manuel Balce Ceneta/AP

The anti-abortion group Center for Medical Progress released a fourth "sting" video of Planned Parenthood officials discussing tissue collection from aborted fetuses. The video comes as the White House and top Planned Parenthood officials defend against Republican politicians' attempts to defund the women's health care clinics.

The videos have largely focused on graphic images and the sometimes callous language used by Planned Parenthood officials to describe tissue donations collected from aborted fetuses. However, despite failing to prove illegal activity as the video's creators purported, the videos have sparked calls to defund the group of clinics.

Many of the calls to defund have come from Republican politicians, including some of the party's 17 presidential hopefuls now crowding the field. Planned Parenthood currently receives more than $500m in federal funding. No federal funding currently goes toward abortion care, as it is expressly forbidden by federal law.

Planned Parenthood president Cecile Richards on Wednesday penned an opinion piece in the Washington Post calling the attacks "a new low", and their creators "extremists".

The Middle East map is being unofficially redrawn as Kurdish forces control more of the north than Isis and Turkey, and pressure mounts to confront realities

Early in Syria's civil war, before the emergence of the Islamic State, the battle lines seemed clear. A local opposition was challenging an entrenched regime for the keys to Damascus. It soon became obvious, however, that neither side could win by themselves, and both dragged in allies whose ensuing battle for a broader supremacy has torn the country apart.

The ramifications have been profound. At stake now, more than four years into the war, is far more than who gets to control Syria. The war is unlocking a regional order established almost a century ago. And two prominent forces, neither of them state actors, have emerged as power players.

On one side are the Kurds, an ethnic group which missed out on a homeland when the Ottoman Empire was divided up at the end of the first world war. On the other is Isis, a marauding force of global jihadists, who have claimed a homeland from the ruins of the once feared police states of Iraq and Syria. Isis's rampage across both countries has exposed the fragility of totalitarian rulers and their subservience to the region's titans, Iran and Saudi Arabia.

Other stakeholders, such as Turkey and the US – notional partners who had until now preferred to push their agendas via proxies – have been drawn in ever deeper, but for different and often contradictory reasons.

The result has been a bewildering array of shifting alliances and priorities, none of which have helped ensure that the post-Ottoman states of Iraq, Syria, and even Lebanon, remain viable.

At one point top of opinion polls, the party's golden boy is now running third. At stake is the survival of Canada's 'natural governing party', but Trudeau remains confident: 'Canadians are looking for someone who has a serious plan'

As Canada prepares for an imminent fall election, the problem for the Liberal leader is that he also has since slid almost as far as his most disgraced opponents.

Once dominating opinion polls with his fresh face and promise to practise "positive politics", Trudeau is now running third in the race to replace the embattled Conservative prime minister Stephen Harper.

As the young Liberal leader struggles to overcome a string of minor gaffes and Tory attacks claiming he is "just not ready" to be prime minister, progressive Canadians are increasingly turning to the New Democratic party leader, Thomas Mulcair, to slay the still-formidable Tory dragon.

Leila Kedir with her mother Sadiya Aliye, who went to jail for two months and paid $50 fines every time she had her four daughters circumcised in Ethiopia. Photograph: David Smith for the Guardian

While some Ethiopians praise the US president's speech in Addis Ababa, other activists are concerned his message did not reach the people who needed to hear it the most in remote, traditional villages where circumcision continues

In Groningen, an estimated 61% of all trips are made by bicycle. Photograph: Alamy

Motorists woke up one mid-70s morning to find new one-way streets made direct crosstown journeys impossible by car. Forty years later Groningen boasts two-thirds of all trips made by bike ... and the cleanest air of any big Dutch city

52 percent of all lion trophy "exports" end up in the U.S., and its share of the trophy trade has been growing.

Conservatives are falling over each other to denounce Democrats as the party of death. There's only one problem...

Though the Black Lives Matter movement is led by black women, stories of their experiences with law enforcement have been largely overshadowed by the narratives of black men. But the national outcry over Sandra Bland's death has been unusual.

Whatever the case, black women are finally getting the media attention activists have long called for. It will be interesting to see how this new attention will play out in the presidential campaign when candidates begin seeking black votes. Farah Tanis, executive director of Black Women's Blueprint, wrote in an email that black women have long been a transformative political force in the black community.

The Department of Justice dropped 29 federal racketeering charges on Rep. Chaka Fattah (D-Pa.) and a handful of close associates this morning, claiming that he diverted campaign and charitable funds to cover the cost of a failed mayoral run and to pay off his son's student loans. Investigators have been circling Chattah for years. Last year, a top aide pleaded guilty to helping Fattah divert the money towards his son's student loan debt, and Fattah's son is awaiting trial on federal charges of his own in connection to the scheme.

The IMF head, Christine Lagarde, is sending a team to Athens, but the board will not participate actively in policy discussions, according to an official. Photograph: Stephen Jaffe/ International Monetary Fund/EPA

The International Monetary Fund will refuse to participate in a new bailout for Greece until there is an "explicit and concrete agreement" on debt relief from the country's eurozone creditors, an IMF official has confirmed.

Without the IMF's involvement, Greece's eurozone partners will have to find more funds to meet Athens' short-term financing needs, raising questions about whether the outline €86bn (#60bn) bailout thrashed out earlier this month will prove workable.

---