In an in-depth interview, Sanders offers a candid and passionate assessment of Trump, Clinton, and the future of his movement.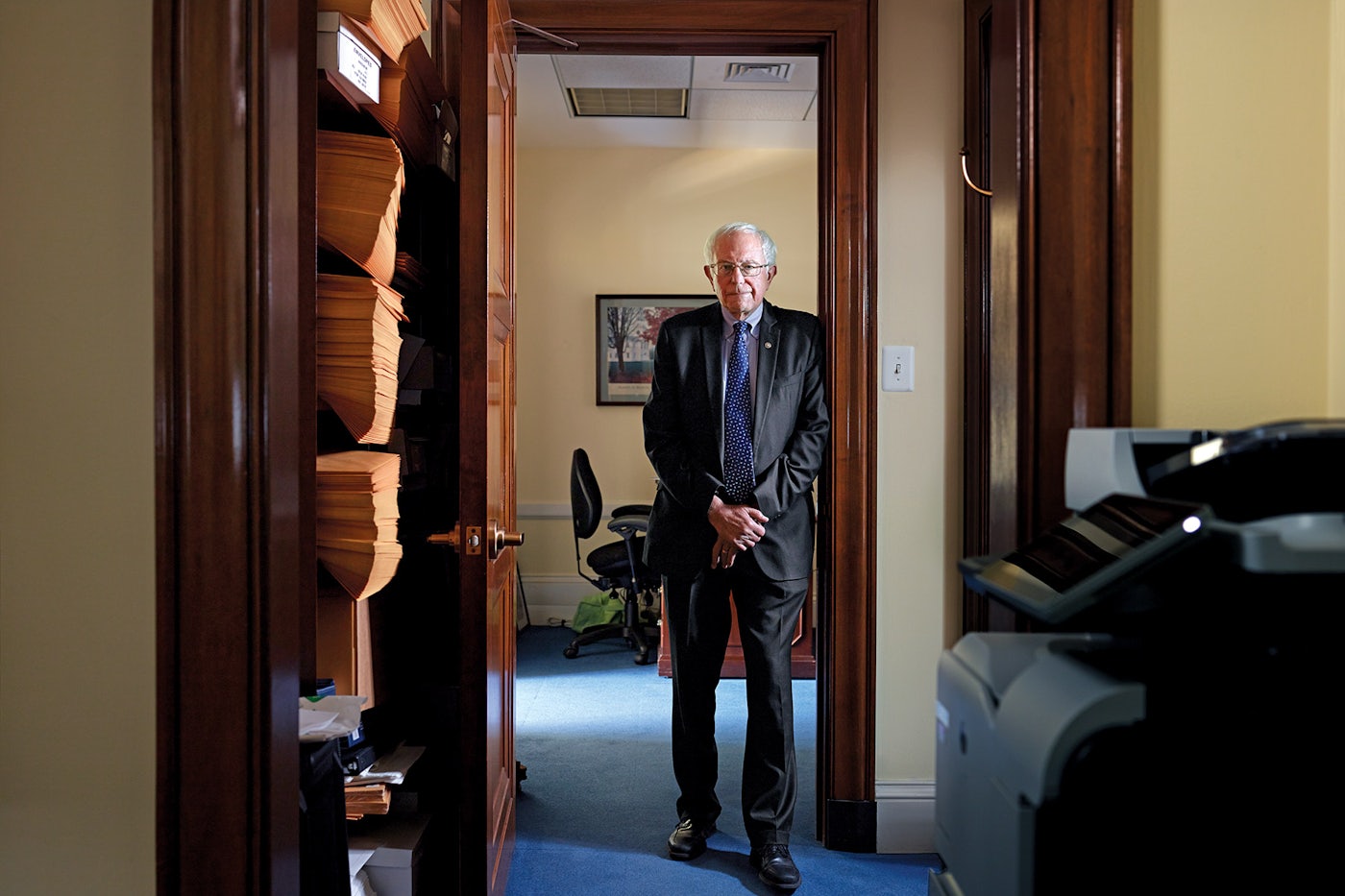 PHOTOGRAPH BY CHRIS BUCK
The single-mindedness of purpose is at the very heart of his appeal. Other people live in this world, and abide by its niceties. Sanders looks forward to the world yet to be, the world as it should be. He set out to lead a revolution, and he nearly succeeded. His agenda is a cross between Das Kapital and Deuteronomy. He rails against the Trans-Pacific Partnership with the same hatred that the rest of us reserve for the New York Yankees, or the New England Patriots, or some other, more leisurely expression of American empire.
Now, after laboring for years as a lone voice on the left, Sanders suddenly finds himself speaking for millions. It's an unexpected role, and not without its pitfalls. Having won twelve million votes in the Democratic primaries—a showing that exposed the deep rift between younger voters and the party establishment—Sanders faces a new challenge: how to continue to pressure the party from the left without tearing it apart in the process. The internal tensions have been apparent from the start: In August, when Sanders launched his new organization, Our Revolution, key staffers resigned in protest over the group's structure, which permits it to accept contributions from billionaires without revealing the donors.
....After 35 years in politics, this was your first campaign at the national level. What surprised you most about the whole process of running for president?
One of the disappointments—not really a surprise—was the media. The very great reluctance of the media to cover the serious issues facing the American people. There was a study that came out a couple of months ago, which showed that only 11 percent of the campaign coverage dealt with issues. For much of the media, coverage was all about the ups and downs of a campaign day, which obviously benefits somebody like Donald Trump very, very much. He's great for the media, because you don't know what he is gonna say. So I found it disappointing that we had a hard time getting some of the very serious issues we were trying to raise out through the media.
....Let's talk about the young voters you mentioned. During the primaries, almost three-quarters of voters under the age of 30 cast their ballots for you. What do you say to your younger supporters who don't plan to vote for Clinton because they see her as too establishment-oriented?
Look, I ran against Hillary for over a year, so I understand where she is coming from. For me, this is not a tough choice. I am a United States senator, and I know what would happen to our government if Donald Trump became president. I think Donald Trump is the worst candidate for a major party that has surfaced in my lifetime. This guy would be a disaster for this country and an embarrassment to us internationally. A man who is a pathological liar. Somebody who, to the degree that he deals with issues at all, changes his position every day. That is clearly not the kind of mentality we need from somebody who is running for the highest office in the land.
What is particularly outrageous and disturbing is that the cornerstone of his campaign is based on bigotry—trying to turn people against Mexican-Americans or against Muslims or against women. To my mind, it's very clear that Donald Trump would be an incredible disaster to this country, and I will do everything I can to see that he is defeated.
But is there a case to be made for Hillary, solely on her own merits?
On a number of issues, I believe Hillary Clinton's positions are quite strong. I was happy to negotiate an agreement with her in the party's platform which said that she would support making public colleges and universities tuition-free for families making $125,000 or less. That is pretty revolutionary. That will not only transform the ability of people to go to college, it will have an impact on kids in elementary school today who know that if they study hard, they can get a college education. She and I also agreed to a doubling of the expansion of community health centers. That's tens of millions more people who will have access to primary health care and dental care and low-cost prescription drugs and mental health counseling. I want to raise the minimum wage to $15 an hour, and I think Clinton is open to moving in that direction, to at least $12 an hour. She supports infrastructure projects that will put millions of people back to work. She understands the significance of not acting on climate change, while Donald Trump does not believe that climate change is real, which is a real threat to the planet.
So what I would ask people is to take a hard look at (a) what a Donald Trump presidency would mean for this country, which in my view would be a disaster, and (b) how Clinton's views on a number of issues are fairly good. That is what we should be focusing on—not the personalities of the candidates, but what their policies will do for the middle class and working families of this country.
You certainly played a major role in pushing Clinton to the left on some key issues, at least in the party's platform. But many of your supporters don't believe that Hillary really supports those positions or will make good on those promises. They see it as something she did in the platform to appease the left.
I think that Hillary Clinton is sincere in a number of areas. In other areas I think she is gonna have to be pushed, and that's fine. That's called the democratic process.
Right now, you have a majority of Republicans—of Republicans—who believe we should raise taxes on the wealthy. Do I think Clinton is prepared to do that? Yeah. Do I think she is prepared to do away with loopholes to get rid of outrageous tax breaks for large multinational corporations? Yeah, I do. Do I think she is serious about climate change, and that we can push her even further? Yeah, I do. Do I think that under Clinton we will raise the minimum wage? Yeah, I do. I'm not quite sure it will be 15 bucks an hour, but it will bring millions of people out of poverty.
Through the work of millions of people, we created a Democratic platform which is far and away the most progressive platform in the history of the United States of America for any political party. Our job the day after the election—and hopefully after Clinton is elected—is to make sure that that platform is implemented.
"Given the surge in STDs, now is not the time to reduce funding to combat these diseases," says National Coalition of STD Directors
At a moment of diminishing clinic services, the rate of sexually transmitted diseases in the country is the highest on record, the U.S. Centers for Disease Control and Prevention (CDC) said this week.
"STD rates are rising, and many of the country's systems for preventing STDs have eroded," said Dr. Jonathan Mermin, director of CDC's National Center for HIV/AIDS, Viral Hepatitis, STD, and TB Prevention, in a press statement. He added that "we're beginning to see people slip through the public health safety net."
Noting that the new data, released Wednesday, only shows reported cases of chlamydia, gonorrhea, and syphilis, the CDC says that its "annual surveillance report captures only a fraction of the true burden of STDs in America."
Indeed, the CDC says that the nearly 20 million new sexually transmitted infections every year rack up roughly $16 billion in healthcare costs, and can lead to long-term effects including reproductive health problems, chronic pain, and increased risk of acquiring HIV. Young people and men who have sex with men—who may face barriers to healthcare access including homophobia or poverty—continue to face the greatest risk of such infections.
Elizabeth Warren asks: Has Wells Fargo CEO John Stumpf "profited from the bank's fraud"?
When Wells Fargo CEO John Stumpf stepped down last week, Sen. Elizabeth Warren said it wasn't "real accountability" given the scope of the financial institution's fake-account scandal.
Now, Warren and her colleague Sen. Robert Menendez (D-N.J.) are doubling down on that accusation, saying the recent fallout has merely raised "additional questions...about who is being held accountable at Wells Fargo."
In a letter (pdf) sent Thursday to the bank's new board chairman Stephen Sanger, Warren and Menendez demand answers to those questions. They inquire not only about Stumpf's compensation—pay, bonuses, and stock holdings—but also about his replacement, Wells Fargo insider Tim Sloan.
Noting Sloan's long tenure with the company (as others did in the wake of his appointment), the senators write: "It is difficult to believe that he had no knowledge of or bears no responsibility for the actions of thousands of Wells Fargo employees creating fake accounts under his and other top executives' watch."
Deia Schlosberg and Lindsey Grayzel face felony charges that first amendment advocates say are part of a growing number of attacks on freedom of the press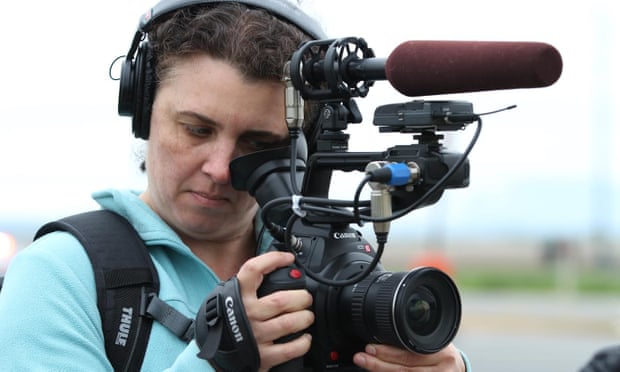 Lindsey Grayzel, an independent film-maker from Portland, Oregon, was arrested and jailed on 11 October while filming at a pipeline protest in Washington state. Photograph: Ben Grayzel
The controversial prosecutions of Deia Schlosberg and Lindsey Grayzel are moving forward after a judge in North Dakota rejected "riot" charges filed against Democracy Now! host Amy Goodman for her high-profile reporting at the Dakota Access pipeline protests.
But authorities in other parts of North Dakota and in Washington state have continued to target other film-makers over their recent reporting on similar demonstrations, raising concerns that the lesser-known journalists are not getting the same kind of public support and national attention.
If you believe Chuck Schumer, she's planning to slash taxes on overseas profits next year—massively and permanently.
In Wednesday night's presidential debate, Hillary Clinton offered a brisk survey of how she would grow the economy. She promised jobs in advanced manufacturing and clean energy, help for small businesses, and more apprenticeships and technical education. She touted her work on debt-free college with Bernie Sanders. She vowed to raise the minimum wage, ensure equal pay for equal work, and make the wealthy and corporations pay their fair share.
But the first piece of this Clinton agenda was "the biggest jobs program since World War II," part of a $275 billion program to rebuild the country's infrastructure. Clinton's campaign fact sheet says it will be paid for through unspecified "business tax reform." If that means anything like what Senator Chuck Schumer has been talking about this week—and there's good reason to believe that it does—this "reform" would involve a giant tax cut for corporations on their overseas profits.
The $66 billion sale of Monsanto is yet another reminder of how corporations have colonized the world and subverted democracy. To regain our future, we must claim our right to popular sovereignty.
We the People never voted to yield our sovereignty to transnational corporations. Nor was the corporate takeover a response to public need. (Illustration:
kmlmtz66
/ iStock)
....As individual corporations grow in size, global reach, and political power, we see a corresponding shift in the primary function of national governments—from serving the interests of their citizens to assuring the security of corporate property and profits. They apply police and military powers to this end, subsidize corporate operations, and facilitate corporate tax evasion. They let corporations off the hook with slap-on-the-wrist fines for criminal actions. Rarely, if ever, do they punish top executives.
We the People never voted to yield our sovereignty to transnational corporations. Nor was the corporate takeover a response to public need.
We the People never voted to yield our sovereignty to transnational corporations.
The subversion began with the recolonization of developing countries, which I witnessed firsthand while living and working as a development professional in Asia from the late 1970s to the early 1990s. For years, the World Bank, the International Monetary Fund (IMF), and national foreign assistance programs had been luring former colonies into funding development projects with debt payable in foreign currency. They could repay only by selling their national assets and the fruits of their labor to foreign corporations.
It became evident in the early 1980s that most borrowing countries could not repay their debts and fulfill their fiduciary responsibility to their own citizens. The World Bank and IMF stepped in as international debt collectors with a corporatist agenda that forced debtor nations to:
Slash public expenditures for health and education to provide tax breaks and subsidies to foreign investors;
Put public assets and services, including communications, power, and water, up for sale to foreign corporations;
Eliminate restrictions on foreign ownership, imports, banks and financial institutions, cross-border financial flows, and the extraction and export of natural resources; and
Roll back protections for unions, workers, public health and safety, and the environment.
Emboldened by this success, the corporatists globalized their agenda in the 1990s through international agreements like NAFTA and international organizations like the World Trade Organization (WTO). Step by step, they co-opted politicians and reduced the ability of governments of all countries—creditors and debtors, rich and poor, large and small—to protect and advance community social and environmental interests if doing so might reduce the anticipated profits of a transnational corporation.
In addition to advising on all three mega-mergers, Credit Suisse is playing a big role behind the scenes of the Dakota Access pipeline.
Dakota Access construction and Standing Rock water protectors. (Photo: Rob Wilson Photography)
....While the business press is all aflutter over all the money to be made by these mega-mergers, beyond the headlines these deals are a disaster for our food, water, and climate, not to mention our communities on the front lines of industrial agriculture and energy infrastructure.
In North Dakota, Credit Suisse is playing a big role behind the scenes, banking against the Standing Rock Sioux, along with Wells Fargo, Goldman Sachs, Morgan Stanley, Bank of America, Citigroup, and more. When we revealed this last month, we hadn't yet seen a huge separate loan of $850 million to Energy Transfer, which is Enbridge's main partner on the Dakota Access pipeline project. The pipeline jeopardizes the tribe's sole source of water, and yet over the tribe's objections, it's still being built.
The company has every intent to maximize the amounts of oil and gas that can be brought to the surface and burned.
If the Enbridge merger with Spectra goes through, it would make the biggest energy infrastructure company in North America, with huge political influence. The company has every intent to maximize the amounts of oil and gas that can be brought to the surface and burned, using fracking, but this is at the expense of targeted communities and the stability of our climate.
If the Monsanto and Syngenta mergers go through, Big Agribusiness would have even more economic power over farmers, increasing the prices they pay and limiting their choices for seeds and farm inputs. Even more crops will be grown with dangerous herbicides like glyphosate that have been linked to the growth of superweeds as well as cancer. And lobbying groups will continue to sway the debate over GMOs, thanks to their millions of dollars spent on marketing and misleading people about so-called benefits while downplaying the risks.
With gas and electricity bills burning an ever larger hole in people's pockets, it makes sense to consider every possible solution. We talk to the homeowners who have seriously cut their energy costs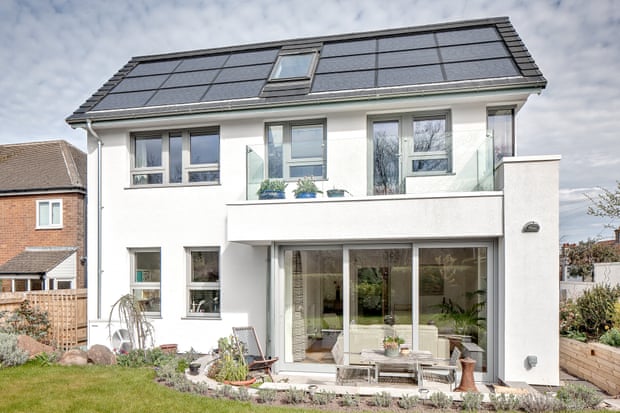 Colin and Jenny Usher's eco-home, built from scratch for £240,000. Photograph: Colin Usher
The overnight low in West Kirby on the Wirrall was around 5C last night. Yet in Colin Usher's home the temperature is a comfy 20c-21C – despite the fact he has not turned on the heating once this autumn. Even in the depths of winter, the house uses a fraction of the energy that most British homes consume trying to keep warm. On average, the Ushers' home energy bills since 2014 have been £530 a year, and that for a house that is nearly twice the size of a standard British semi. It means the family is saving at least £1,000 a year, and possibly much more. Throw in the fact that their rooftop solar panels generate an income of £500 a year and their net energy bills are actually close to zero.
Colin and his wife Jenny insist they are not shivering in their four-bed house, or wrapped in multiple fleeces and blankets to keep the cold away. Rarely does the temperature in the house go above 22c, rarely does it fall below 20c. Yet they have achieved this without spending ludicrous amounts of money buying the fanciest new technology. Usher, an architect, built the 179 sq metre (1,926 sq ft) house for just £240,000 and says the key to saving on heating bills is being airtight.
Solar expected to almost triple in less than three years by 2017 as coal continues to fall, solidifying gas as country's chief electricity source,
reports Climate Central
Cutting carbon dioxide emissions from electric power plants is a major part of the US strategy for tackling climate change as the country seeks to meet its obligations under the Paris climate agreement and keep global warming from exceeding more than 2C (3.6°F).
Reducing those emissions requires changing the fuels used to produce electricity, including using more natural gas and renewables than coal, historically the country's largest single source of greenhouse gas emissions driving climate change.
Renewables still make up only a fraction of the US power supply – 8% this year. That's expected to grow to 9% next year, and the biggest driver of that growth is solar.
Bobby Magill for Climate Central, part of the Guardian Environment Network |
The Guardian
Government introduces waiting time after warning that high level of terminations of female foetuses was causing a demographic crisis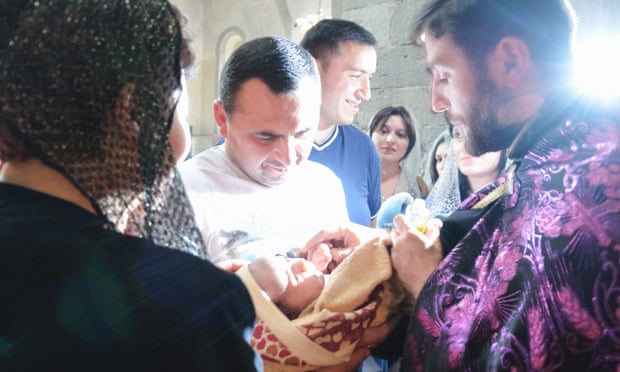 A baby is baptised in the Armenian Apostolic church in Goris, Armenia. Critics say the new law fails to address the poverty and patriarchal values causing the gender imbalance. Photograph: Alamy Stock Photo
The ex-Soviet country, with a population of just under 3 million, has the third highest rate of abortion of female foetuses in the world, behind China and Azerbaijan.