A high school in Eden, N.C., last month. President Trump and his team have remained defiant in their push for schools to open, even as coronavirus cases have once again ticked up. Credit...Pete Kiehart for The New York Times
Administration officials wanted the agency to play down the risks of sending children back to school.
Trump officials specifically sought data supporting school reopening, documents and interviews show.
While families across the United States this summer were on edge about the coming school year, top White House officials were pressuring the Centers for Disease Control and Prevention to play down the risk of sending children back to school, according to documents and interviews with current and former government officials.
The effort included an attempt to find alternate data showing that the coronavirus pandemic was weakening and posed little danger to children — a strikingly political intervention in one of the most sensitive public health debates of the pandemic.
A member of Vice President Mike Pence's staff said she was repeatedly asked by Marc Short, the vice president's chief of staff, to get the C.D.C. to produce more reports and charts showing a decline in coronavirus cases among young people.
Mr. Short dispatched junior members of the vice president's staff to circumvent the C.D.C. in search of data he thought may better support the White House's position, said Olivia Troye, the aide, who has since resigned....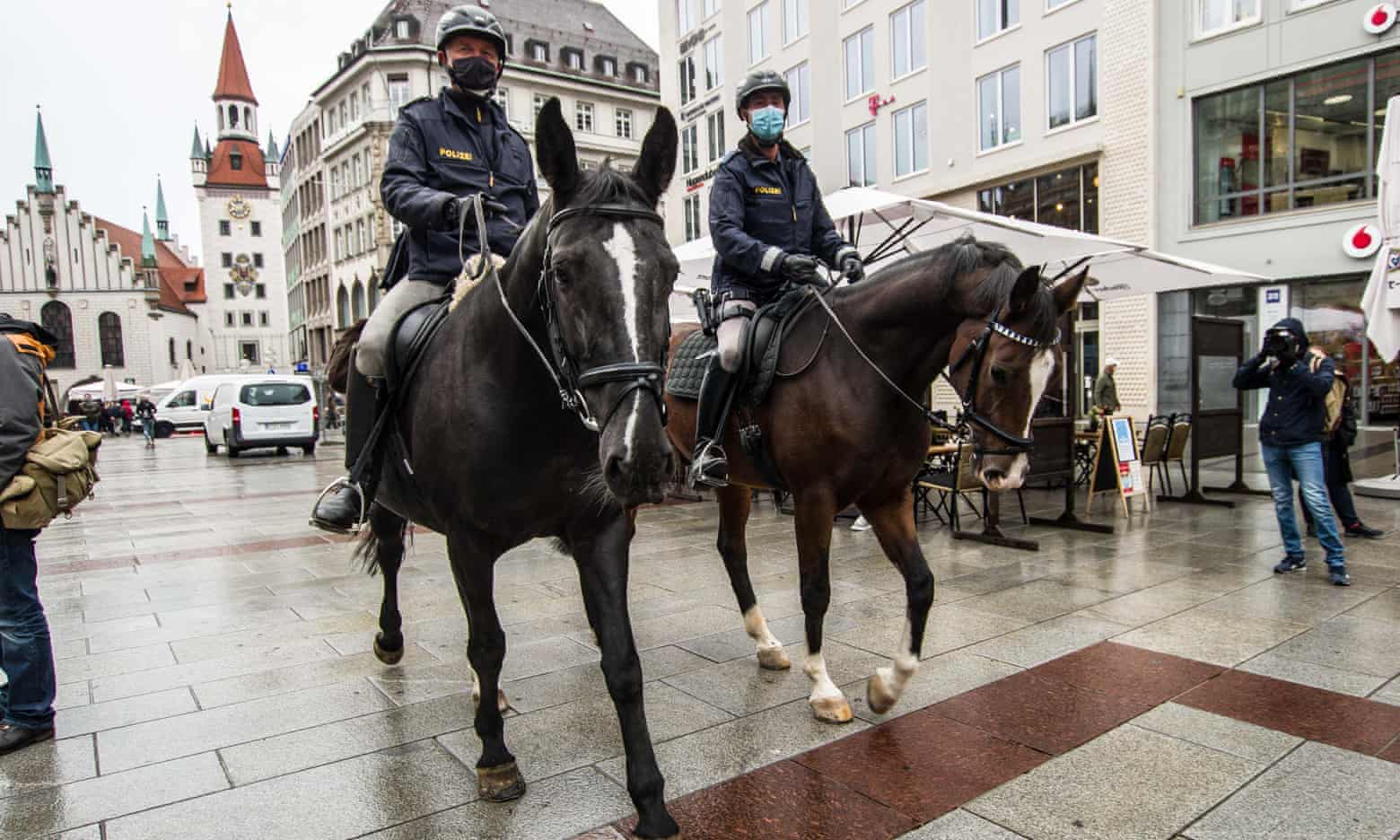 Mounted police patrol Marienplatz and the pedestrian zone in Munich, Bavaria. Photograph: Sachelle Babbar/ZUMA Wire/REX/Shutterstock
Josh Halliday (now); Caroline Davies, Helen Sullivan and Ben Doherty (earlier)
|
The Guardian
| 20.09.29
'We Italians have clawed ourselves out of the tragic pit we were in this spring.' Military trucks take away coffins in Seriate, Lombardy, in March. Photograph: Flavio Lo Scalzo/Reuters
Italy and Sweden chose very different Covid-19 strategies, but both were accountable and transparent
....Both the Italian and the Swedish governments followed closely the advice of experts. Both, on the basis of this advice, then chose the strategy they deemed more suitable to the national sentiment, culture, political and social history. Both governments communicated this strategy to their citizens, and said how they were expected to act.
Italians, for instance, were told we had to stay at home. It wasn't advice, it was the law. If you didn't comply, you were fined or even risked a trial. I think the reason Italians complied mostly without protest, in the orderly fashion everybody seems so stunned about, is because of the responsibility the government took for giving these instructions, just as it has for its mistakes (and there were many). Sweden is on the opposite end of the spectrum as far as its strategy goes – but on the same side as Italy if the divide is not about lockdowns, but about governments that rely on the advice of experts to present their policy decisions to the public in an accountable, consistent way, and those who don't [such as Trump in America].
So the line I would draw when looking at positive or negative experiences, is neither about the number of infections or deaths, nor about the devastating effect all of this is having on our economies: Covid-19 is a marathon and we don't know if we have even reached the halfway post. The line I would draw is between those governments that are taking full responsibility for their actions, and those that leave their citizens in a haze of uncertainty, and have unaccountable leadership....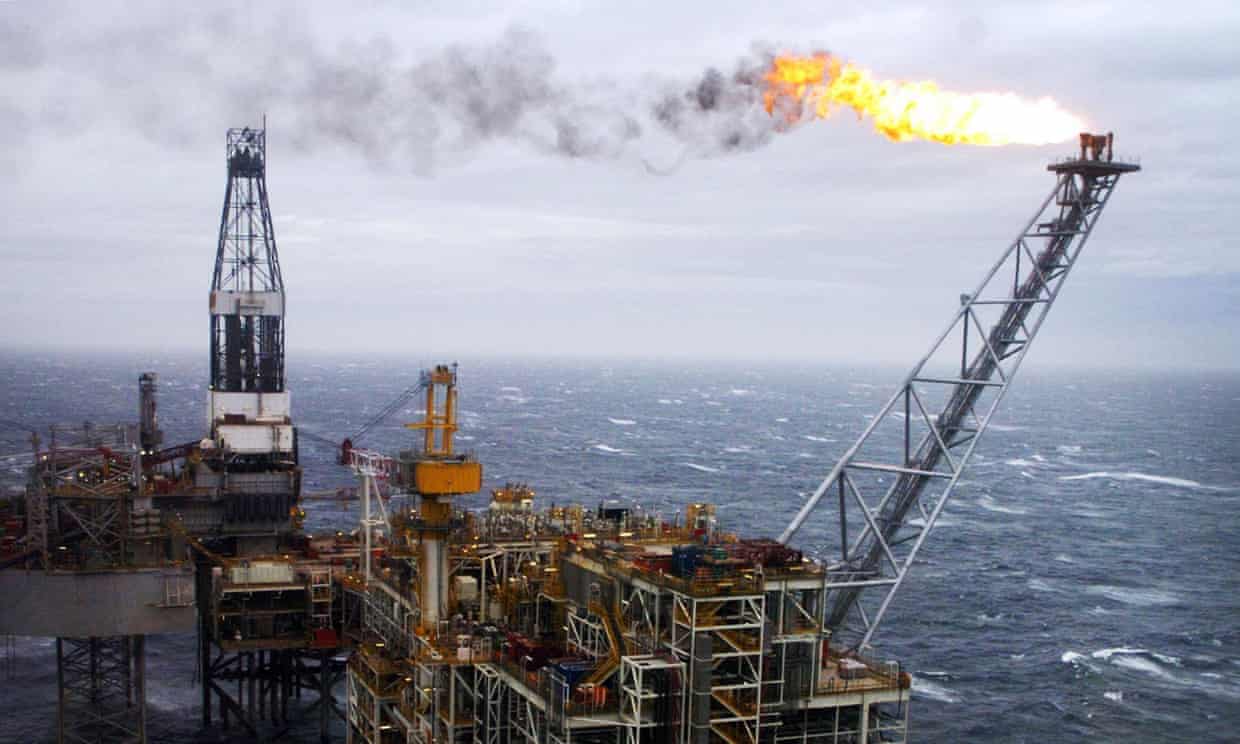 An oil rig in the North Sea 'flaring', a practice that led to 3m tonnes of carbon being emitted into the atmosphere last year from UK rigs. Photograph: Danny Lawson/PA
Release of CO2 from UKCS rigs was much greater than Norwegian and Danish regions
....The report found that oil rigs in UK waters released 3m tonnes of carbon through routine "flaring" of unwanted gas totalling billions of cubic feet.
Another 10.1m tonnes of CO2 were released in large part because the industry regulator, the Oil and Gas Authority (OGA), continues to allow oil producers to run their rigs on fossil fuels, according to Rystad.
These figures suggest that the UK emits 21kg of carbon dioxide for every barrel of North Sea oil produced, compared to only 8kg of CO2 in Norway, where oil producers run their rigs on renewable energy.
This could hold serious implications for the UK's carbon targets if oil production from the UKCS is allowed to rebound by 25% in the 2030s in line with forecasts by Rystad.
The figures have emerged eight years after the World Bank warned nations that global gas flaring contributes as much to climate crisis as a major economy such as Italy....
Jillian Ambrose Energy correspondent
|
The Guardian
| 20.09.29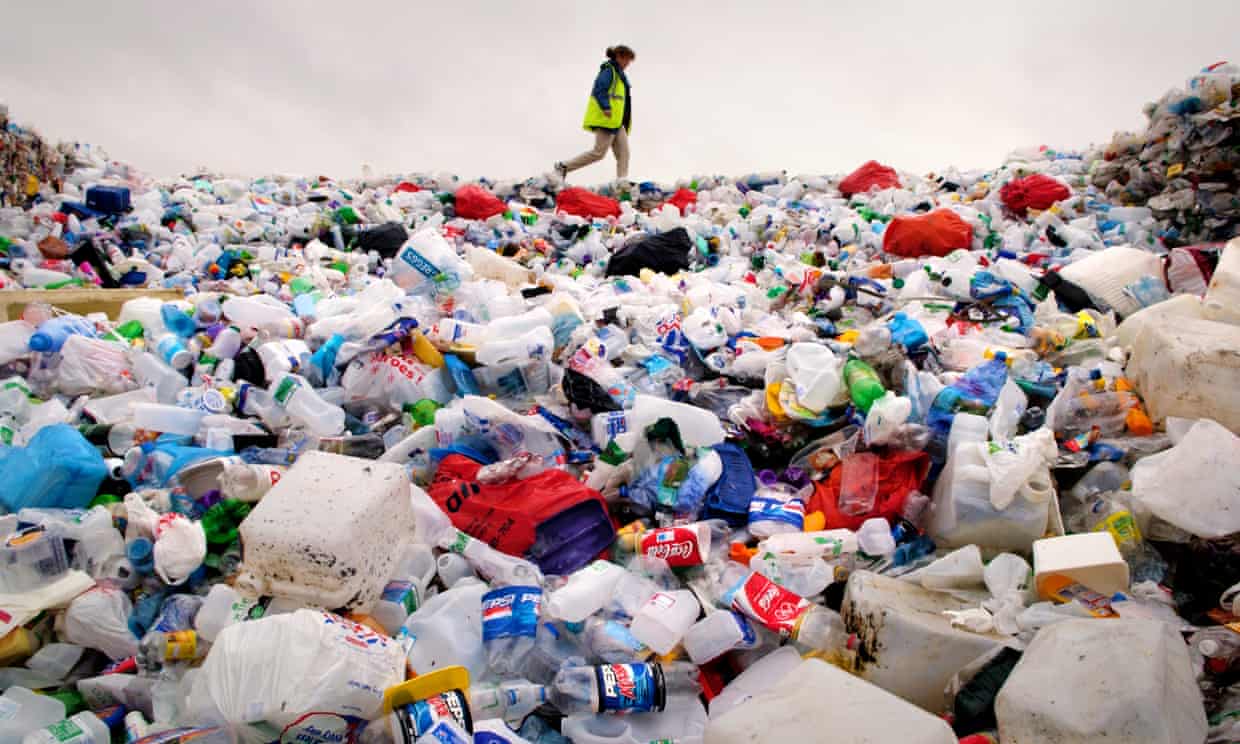 Plastic bottles makes up almost one sixth of the world's annual plastic production. Photograph: Jeff Morgan/Alamy Stock Photo
Breakthrough that builds on plastic-eating bugs first discovered by Japan in 2016 promises to enable full recycling
A super-enzyme that degrades plastic bottles six times faster than before has been created by scientists and could be used for recycling within a year or two.
The super-enzyme, derived from bacteria that naturally evolved the ability to eat plastic, enables the full recycling of the bottles. Scientists believe combining it with enzymes that break down cotton could also allow mixed-fabric clothing to be recycled. Today, millions of tonnes of such clothing is either dumped in landfill or incinerated.
Plastic pollution has contaminated the whole planet, from the Arctic to the deepest oceans, and people are now known to consume and breathe microplastic particles. It is currently very difficult to break down plastic bottles into their chemical constituents in order to make new ones from old, meaning more new plastic is being created from oil each year....
Damian Carrington Environment editor
|
The Guardian
| 20.09.29