Senator Bernie Sanders speaking at a rally in Springfield, Ore., on Thursday.Credit Ryan Kang/Associated Press
"The problem we are having now is not, in my view, that the Republicans are winning elections," Mr. Sanders said. "The problem is that the Democrats are losing elections. In November of 2014, the midterm elections, 63 percent of the American people did not vote; 80 percent of young people and low-income people did not vote. And I think the reason for that is the Democratic Party...has not been clear about which side they are on on the major issues facing this country."
Mr. Sanders also called for "automatic voter registration" and for doing way with recently passed voter identification laws. He went on to urge, as he has in dozens of speeches, the need to reform the campaign finance system.
With Mrs. Clinton closing in on the nomination, Mr. Sanders has faced increasing pressure to refrain from harsh attacks on her. In his address Thursday, he did criticize Mrs. Clinton for her stances on trade deals, hydraulic fracking, taxing carbon emissions and taking an incremental approach to addressing problems, but his criticisms were a bit toned down, as he instead saved his fiercest critiques for the party as a whole.
"You can't be for Wall Street and for the working people of this country," Mr. Sanders said of Democrats. "You cannot be for the drug companies and for the needs of senior citizens and veterans. You cannot be on the side of those workers who have lost their jobs because of disastrous trade agreements and support those corporations who have thrown millions of our workers out on the street."
'Never worked with a more miserable son of a bitch,' says Boehner, but presidential hopeful Cruz counters: 'I don't even know the man'
Exclusive: Tim Clark and Ron Nehring, running California campaigns for Trump and Cruz respectively, advised rightwing tycoon Manuel Baldízon's campaign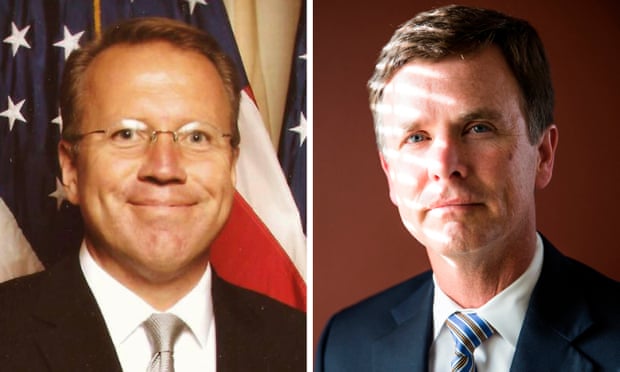 Although Ron Nehring and Tim Clark are now on opposite sides of the Republican presidential race, they have been close associates for several years. Composite: Facebook/Max Whittaker for the Guardian
The two men hired by Donald Trump and Ted Cruz to spearhead their presidential campaigns in California are, for the moment, rivals in what could be the most important primary race of 2015.
But four years ago, Tim Clark and Ron Nehring, who are running the California campaigns for Trump and Cruz respectively, worked as paid advisers to a campaign to elect a Guatemalan presidential candidate whose platform included a call for public executions.
Clark and Nehring, the Guardian can reveal, spent six weeks in Guatemala in 2011 working as advisers to Manuel Baldízon, a rightwing populist and business tycoon who campaigned on the promise of broadcasting the executions of criminals on TV.
The pair of Republican political consultants, now at the helm of competing presidential campaigns in California, were paid to advise Baldízon by what Clark elliptically refers to as "business interests".
President in interview admits several of his own missteps but says a mixture of tax and regulation cuts, a balanced budget and economic growth defies logic
Barack Obama has accused the Republican presidential candidates of defying logic and peddling "fantasy" in telling voters they can cut taxes and government regulations, balance the budget and produce economic growth.
"If you look at the platforms, the economic platforms of the current Republican candidates for president, they don't simply defy logic and any known economic theories, they are fantasy," Obama said, in an extensive and at times surprisingly frank reflection on his economic legacy in an interview with the New York Times's Andrew Ross Sorkin.
The president admits some economic missteps in the interview, including a failure to initiate a significant infrastructure spending project and to sufficiently boost wages. While the economy has grown during the Obama presidency and unemployment has been cut in half, a near record number of Americans have dropped out of the workforce and real median incomes have fallen, while wealth and income inequality have grown.
Military contractors have shelled out over $1 million to the 2016 presidential candidates — including over $200,000 to Hillary Clinton alone.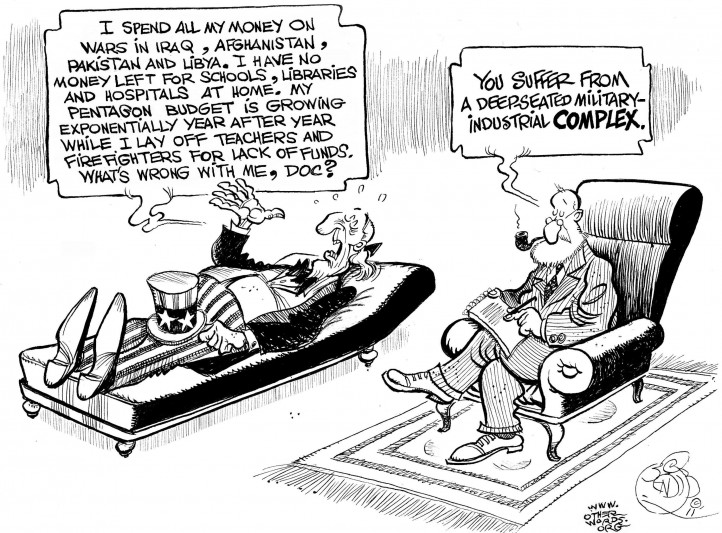 Click for larger image. Cartoon by OtherWords.org
Big money in politics drives grave inequality in our country. It also drives war.
After all, war is a profitable industry. While millions of people all over the world are being killed and traumatized by violence, a small few make a killing from the never-ending war machine.
During the Iraq War, for example, weapons manufacturers and a cadre of other corporations made billions on federal contracts.
Most notoriously this included Halliburton, a military contractor previously led by Dick Cheney. The company made huge profits from George W. Bush's decision to wage a costly, unjustified, and illegal war while Cheney served as his vice president.
On issues from air pollution to civil liberties, elected Greens ask difficult questions – as a result, the establishment sees us as a threat
In Florida prisons, mentally ill inmates have been tortured, driven to suicide, and killed by guards.
Harriet Krzykowski, a former counsellor at the Dade Correctional Institution, faced retaliation after questioning inmate abuse. CREDIT PHOTOGRAPH BY ELINOR CARUCCI FOR THE NEW YORKER
....By the nineties, prisons had become America's dominant mental-health institutions. The situation is particularly extreme in Florida, which spends less money per capita on mental health than any state except Idaho. Meanwhile, between 1996 and 2014, the number of Florida prisoners with mental disabilities grew by a hundred and fifty-three per cent.
....Krzykowski's concerns kept mounting. In her view, the Transitional Care Unit—T.C.U. is Dade's mental-health ward where most inmates are locked in solitary confinement—was unacceptably run-down: the walls were mildewed, the hallways were caked in grime, and the sewage system was often backed up. In the staff break room, cockroaches had overrun the kitchen area, infesting even the microwave. Oddly, the water from the kitchen faucet was scalding, so Krzykowski began using it to make ramen noodles for lunch.
One Saturday in June, 2012, Krzykowski was finishing a shift when she heard that an inmate in the T.C.U. named Darren Rainey had defecated in his cell and was refusing to clean it up. He was fifty years old, and, as Krzykowski recalls it, he gave people unnerving looks, "like he was trying to see inside you." He had been convicted of possession of cocaine, and suffered from severe schizophrenia.
"Oh, don't worry, we'll put him in the shower," he told her.
Krzykowski remembers hearing this and feeling reassured. "I was thinking, O.K., lots of times people feel good after a shower, so maybe he will calm down. A nice, gentle shower with warm water."
The next day, Krzykowski learned from some nurses that a couple of guards had indeed escorted Rainey to the shower at about eight the previous night. But he hadn't made it back to his cell. He had collapsed while the water was running. At 10:07 P.M., he was pronounced dead.
Krzykowski assumed that he must have had a heart attack or somehow committed suicide. But the nurses said that Rainey had been locked in a stall whose water supply was delivered through a hose controlled by the guards. The water was a hundred and eighty degrees, hot enough to brew a cup of tea—or, as it soon occurred to Krzykowski, to cook a bowl of ramen noodles. (Someone had apparently tampered with the T.C.U.'s water heater.) It was later revealed that Rainey had burns on more than ninety per cent of his body, and that his skin fell off at the touch.
Krzykowski said to the nurses that, surely, there would be a criminal investigation.
"No," one of them told her. "They're gonna cover this up."
In the days after Rainey's death, Krzykowski learned from several inmates in the T.C.U. that Rainey was not the first person who had been locked in that shower; he was only the first to die there.
US president has introduced federal-level reforms, but without getting states to do likewise their impact will be minimal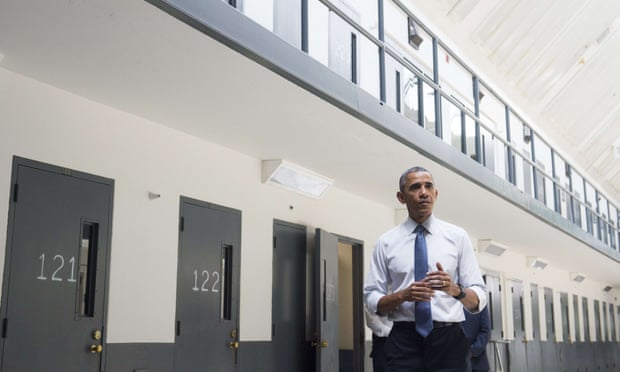 As part of his reform drive, Barack Obama became the first sitting US president to visit a federal prison. Photograph: Saul Loeb/AFP/Getty Images
The Obama administration is pressing individual states to join its mission to cut back on the use of solitary confinement in US prisons, in the hope of reining in a practice that is still widespread despite having been denounced as potentially amounting to torture.
The drive from the White House and Department of Justice is tacit recognition that without the cooperation of state corrections departments and legislatures – many of them Republican-controlled – the goal of reducing solitary confinement will remain a pipe dream.
There are as many as 100,000 people in segregated cells in the US, a number that sets the country apart from most of the rest of the world and exceeds the entire prison populations of countries such as the UK, France and Germany.
There are thousands of young prison inmates in the US in isolation. Its effects work against the rehabilitation we supposedly want for them
Experts, editorial boards, doctors, Democrats and Republicans alike have all come to the same conclusion: it's time to end the practice of juvenile solitary confinement in America.
At any given time, 70,000 children and teenagers are held in a juvenile justice facility in the United States, and thousands of these young Americans are held alone in near-complete isolation in a space often not much larger than a closet.
The global economy is running out of steam and the conventional weapons are increasingly ineffective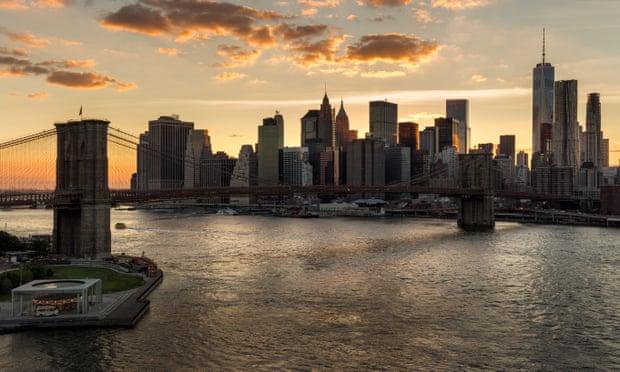 The New York financial district at sunset. In the US, firms are reducing investment – normally the sign of a looming recession. Photograph: Alamy
Each quarter, the data company Markit compiles a global Purchasing Managers' Index for JP Morgan, with the intention of providing an up-to-date picture of economic conditions. The result for the first three months of 2016 showed activity at its lowest level in more than three years.
Nor is there much hint of an improvement in the near future. In the US, firms are hacking back at investment – normally the sign of a looming recession. Consumer confidence has weakened, in part because real incomes are being squeezed.
As export-driven economies, Japan and the eurozone rely on a thriving US to buy their goods, so it is no surprise to find both struggling. The Bank of Japan will be forced to revisit its decision not to provide additional stimulus, since the upshot of its inaction has been a sharp rise in the yen, which will lead to even slower growth. Mario Draghi may again have to lock horns with the Bundesbank president, Jens Weidmann, in order to force through measures aimed at boosting activity in Europe.
Former archbishop of Canterbury says the university should withdraw its #5.8bn fund from from oil, coal and gas on ethical and financial grounds