At recent Guardian roundtable discussion, experts talked about how the energy sector can bring down dependence on fossil fuels and reduce carbon emissions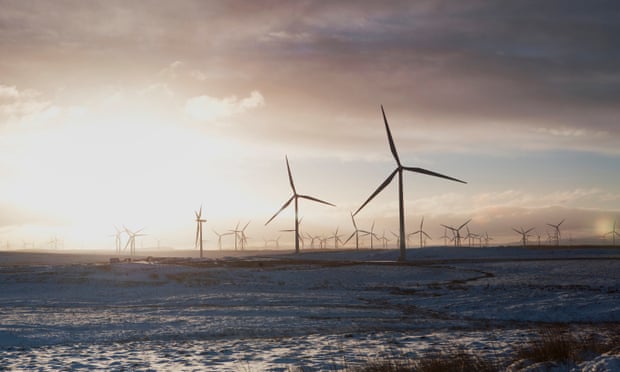 Onshore wind and large scale solar farms are expected to come to cost parity with gas-fired power stations by the 2020s. (Photograph: Armando Ferrari/Getty Images/Cultura RF)
There are some indications that the energy transition is under way. The International Energy Agency (IEA) recently announced that renewable energy accounted for half of all new power plants in 2014, while large oil companies cancelled 80 drilling projects worldwide in 2015. But the IEA also calculates the world is still on course for global warming of 2.7C before the end of the century, significantly above the danger threshold of 2C, with "major implications for us all". The transition, therefore, must happen sooner and faster.
A recent Guardian roundtable, sponsored by global energy company Enel, looked at what the sector can do to pick up the pace of the transition. The chair, Oliver Balch, asked whether politics is holding the transition back. Diminishing subsidies and support for renewables under the current UK government led the World Energy Council [WEC] recently to downgrade the UK from AAA to AAB rating for its energy policy.
In 1991, the southern Swedish city became the first in the world to declare its intention to become fossil-fuel free. So how much progress has been made, and does Växjö offer a blueprint for bigger cities too?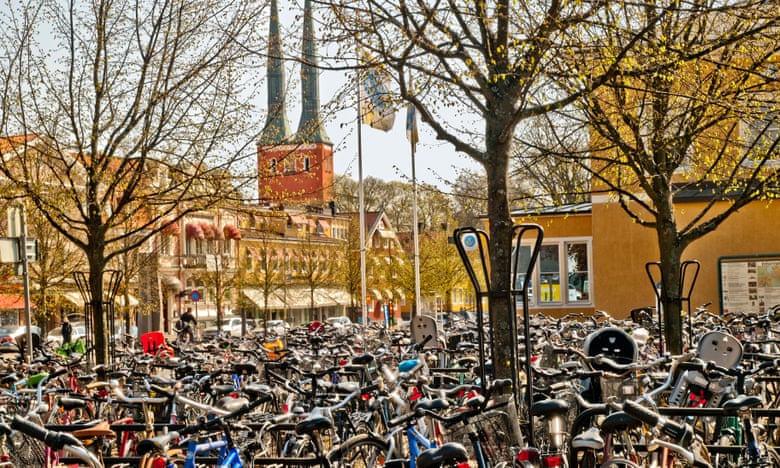 Växjö is focusing on increasing the uptake of cycling as part of its mission to be fossil-fuel free by 2030. (Photograph: T Hedley/Alamy)
"Each citizen must contribute," Bo Frank says by way of explanation. "You can't just blame others and expect them to do something. You have to start with yourself: the way you purchase, the way you live, the way you drive, the way you use transport, heat and electricity. Demand is very important to making change."
And the change so far has been impressive. CO2 emissions per resident were 2.4 tonnes last year, among the lowest in Europe – a 48% drop from when city started measuring its emissions in 1993. And it has done so without sacrificing growth: between 1993 and 2012, GDP per capita increased by 90%. A BBC documentary in 2007 labelled Växjö the "greenest city in Europe", and the city has clearly worked hard to live up to the accolade – although there is no official way to compare cities' "greenness".
The Danish capital, Copenhagen, with CO2 emissions of 2.8 tonnes per resident, is now aiming to steal a march on Växjö and become fossil-fuel free by 2025 – but for the moment is further behind in its energy transition. Frank puts his city's success down to the fact that in Sweden, income tax revenues go directly to municipal councils which have huge discretion over how they are spent – and the eight political parties, which span the political spectrum, have over the years been united about the green agenda. "We don't even debate it at a local level. You could say there are eight green parties."
They eke out an existence in the face of myriad humanitarian, environmental and political challenges. Now people in rural Somaliland face a debilitating drought that threatens to change their way of life forever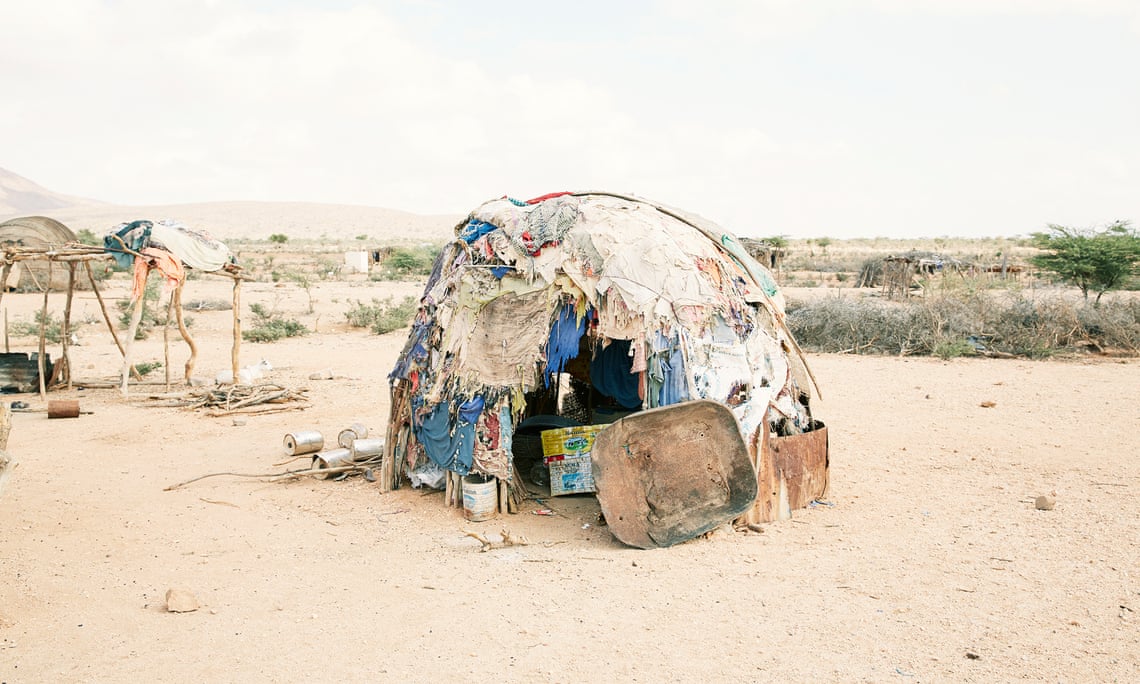 A flimsy makeshift home belonging to one of the displaced people living outside Gargara, a village in Somaliland. (Photograph: Felicity McCabe)
Leaders of more than 50 Labour-run councils sign pledge to eradicate carbon emissions ahead of Paris climate talks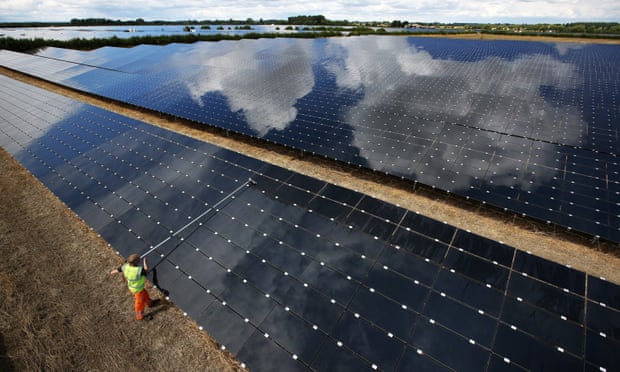 A workman cleans panels at Landmead solar farm near Abingdon, Oxfordshire. (Photograph: Peter Macdiarmid/Getty Images)
The pledge, coordinated by Lisa Nandy, the shadow energy and climate change secretary, will mean green transport, an end to gas heating and a programme of mass insulation of homes in cities across the UK.
The move will also pile pressure on the London mayoral candidates to make a similar pledge for the capital, with some Labour-led London boroughs, including Southwark, Lambeth and Greenwich, having already signed the promise.
Ahead of the crucial Paris talks, similar pledges have been made by the leaders of other towns and cities around the world, including Copenhagen, New York, Sydney, Malmö and Munich.
Floods and heatwaves frequency almost double in two decades, but scientists say 'jury is out' on how much is due to climate change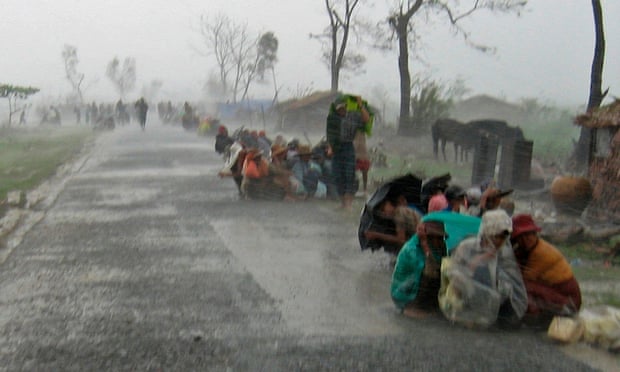 Cyclone victims in Myanmar huddle in torrential rain as they await assistance after Cyclone Nargis in May 2008, the worst mega-disaster of the past decade. (Photograph: Reuters)
Researchers have learned how to create synthetic versions of the RNA guides and program them to deliver their cargo to virtually any cell. Once the enzyme locks onto the matching DNA sequence, it can cut and paste nucleotides with the precision we have come to expect from the search-and-replace function of a word processor. "This was a finding of mind-boggling importance," Zhang told me. "And it set off a cascade of experiments that have transformed genetic research."
With CRISPR, scientists can change, delete, and replace genes in any animal, including us. Working mostly with mice, researchers have already deployed the tool to correct the genetic errors responsible for sickle-cell anemia, muscular dystrophy, and the fundamental defect associated with cystic fibrosis. One group has replaced a mutation that causes cataracts; another has destroyed receptors that H.I.V. uses to infiltrate our immune system.
The potential impact of CRISPR on the biosphere is equally profound...
William Ruckelshaus, who this week will receive the presidential medal of freedom, says candidates are harming US's reputation ahead of Paris climate talks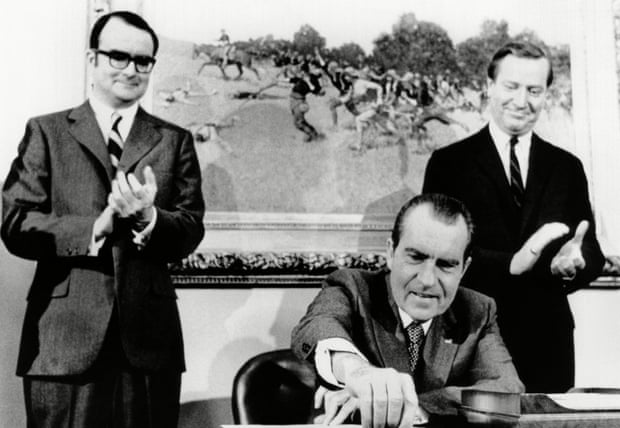 William Ruckelshaus (left) applauds as Richard Nixon signs far reaching anti-pollution legislation in 1970. (Photograph: Everett/Rex Shutterstock)
---
A growing body of evidence suggests pollution can do a number on the brain. The July/August Mother Jones cover story chronicled the research connecting neurodegenerative diseases like Alzheimer's and Parkinson's to the dirty air we breathe; studies have found that pollution may also age the brain prematurely. And according to new research from the University of Texas-El Paso, pollution's damage to the brain may start even sooner than was previously thought: Fourth and fifth graders exposed to exhaust emissions, researchers found, don't do as well in school as their peers who breathe cleaner air.
Though Canada's system is the second most expensive in the world per capita, it would save America $1.3 Trillion/yr and cover everyone
[All the other OECD countries negotiate much lower drug & medical procedure costs]
The Transatlantic Trade and Investment Partnership aims to pave the way for the exploitation of toxic tar sand crude oil – with potentially devastating results

Tar sands are the largest industrial project on the planet, and the world's most environmentally destructive. (Photograph: Rex Shutterstock)

The prospects for a meaningful agreement at the UN climate change talks beginning on Monday are bleak. As a result, so too are the prospects for the 100 million more people predicted to be living in poverty by 2030 as a result of global warming.

Though framed by record high temperatures and an increasing number of extreme weather events, the Paris talks are already beset by the same problems that repeatedly dog climate change negotiations: the richest countries steadfastly refuse to meet legal commitments and shoulder their share of responsibility, preferring to uphold the desires of all-powerful corporate lobbies. Meanwhile, the poorest countries meet or exceed their responsibilities.

But regardless of commitments made in Paris, any steps to halt runaway climate change will be wholly undermined by the secretly negotiated EU-US trade deal, the Transatlantic Trade and Investment Partnership (TTIP).

While touted as a "free trade" deal, in reality TTIP is anything but. The reduction of "tariffs" is a tiny fraction of the deal. The trade deal's central mission is to remove "non-tariff barriers" – the regulations that often protect our society, health and environment. Fundamentally, it is a struggle between corporate power and the interests of people and the planet, with wide-ranging ramifications for the global south.

Tackling climate change means drastically transforming our economies. Our political leaders, not business, are best placed to do that

Residents in a flood-affected area on the outskirts of Sukkur in Pakistan. Many businesses are opposed to stronger regulation to help stave off dangerous climate change, says Pascoe Sabido. (Photograph: Asif Hassan/AFP/Getty Images)

A recent report from the NGO Corporate Europe Observatory reveals that what's on offer at COP21 is nothing short of a climate catastrophe, a guaranteed recipe to cook the planet. But rather than sending the dish back, political leaders have asked for seconds, bringing the very companies responsible for the problem ever closer into the UN fold.

Commonwealth Climate and Law Initiative will lay out risks to financial returns amid increasing government curbs on emissions

A coal-fired power plant. The purpose of the prince's project is to illustrate to investors what they might do if companies are not frank with them about the damage they are inflicting on the world. (Photograph: Oliver Berg/EPA)

The purpose of the prince's project – the Commonwealth Climate and Law Initiative (CCLI) – is to illustrate to investors what they might do if companies are not frank with them about the damage they are inflicting on the world. The initiative will also lay out the risks in such behaviour to investors' own future returns amid ever more significant government curbs on carbon emissions. By making investors more aware – and active – it is hoped that corporate behaviour will also change.

In Mogadishu and its environs, political instability means vital aid is not getting to families living in dire poverty after being displaced by drought or violence

Consumer goods giant pledges to go 'carbon positive' by 2030, generating 100% of its energy needs from renewables with more to spare

Paul Polman, chairman of the company, told the Guardian the target was "do-able, really do-able". He cited a new factory in China which is powered by wind and solar energy, and an office in Paris which is "carbon positive", contributing green electricity to the power grid.

Senator Bernie Sanders released his immigration plan on Tuesday. To read it — and every citizen should — is to be yanked back in time, to an America that not so long ago was having a reasonable immigration discussion and a time when major reform had strong bipartisan support and a shot at becoming law.

But since the immigration reform bill was killed, in 2013, the party that killed it — the Republicans — has dragged the immigration debate to grotesque depths that go well beyond the usual nativist bigotry. Republican presidential candidates are arguing, in all seriousness, about sealing the border with fantastical 2,000-mile fences and weaponized drones; merging state, local and federal authorities and private prisons into one all-seeing immigration police state; forcibly registering American Muslims; mass-deporting 11 million Mexicans and others in a 21st century Trail of Tears; and turning away thousands of refugees fleeing war and terrorism in the Middle East.

Mr. Sanders, the Vermont senator seeking the Democratic presidential nomination, turns away from the insanity. His plan starts with the right premise: that immigrants should be welcomed and assimilated, not criminalized and exploited. His proposals seek to uphold American values, bolster the rule of law, bolster the economy and protect and honor families.

Trump and others are proving it: we can't discern the truth

Donald Trump claimed erroneously that "thousands of people" in New Jersey "were cheering" on 9/11. (Scott Olson/Getty)

In all of these cases [of lying], the candidates doubled or tripled down when pestered by reporters and fact-checkers and insisted they'd been victimized by biased media. A great example of how candidates have handled this stuff involved Fiorina.

Carly Fiorina, the former HP chief, keeps using a roundly debunked line originally dug up by the Romney campaign, about how 92 percent of the jobs lost under Obama belonged to women. The Romney campaign itself ditched the line because it was wrong even in 2012. When confronted this year, Fiorina simply said, "If the liberal media doesn't like the data, maybe the liberal media doesn't like the facts."

On several different issues, Marco Rubio believes all things, and nothing, at the same time

In "The Plot Against America," the novelist Philip Roth imagines an alternative history at the dawn of World War II. Charles A. Lindbergh, aviator hero and crypto-fascist, defeats Franklin D. Roosevelt in 1940. Rather than go to war against Nazi Germany, he foments an atmosphere of hatred directed at Jews in the United States.

President Lindbergh's rule is based on fear. He can violate the Constitution because enough Americans do not mind limiting the freedom of a suspect minority in the name of security.

Of course, it could never happen here. It's a novel, silly boy — one of late-stage Roth's better efforts. Made-up stuff. That's what I've always thought. But over the last three months, in listening to plans of the Republican presidential front-runner and the views of his increasingly thuggish followers, I'm starting to have some dark fears should Donald Trump become president.

A wall of televisions in the Republican National Committee's "war room" in Washington, D.C. (Credit Zach Gibson/The New York Times)

Raj Shah runs the Republican National Committee's opposition research arm, a beehive of two dozen tech-savvy idealists who have already spent two years searching through decades of government documents, tax filings, TV footage and news archives. One of their colleagues in Arkansas turns up every day in the Clinton presidential library to probe the Clintons' accumulated past. More than 330 Freedom of Information Act requests have netted 11,000 pages of records, and counting. The R.N.C. has also retained Mark Zaid, an attorney who also is representing the Gawker website in suing the State Department over records from Mrs. Clinton's time as secretary of state.

A genetically engineered salmon, top, and a regular one. (Credit Paul Darrow for The New York Times)

The uproar over the new ease and precision with which scientists can manipulate the DNA of living things has centered largely on the complicated prospect of editing human embryos. But with the federal government's approval last week of a fast-growing salmon as the first genetically altered animal Americans can eat, a menagerie of gene-edited animals is already being raised on farms and in laboratories around the world — some designed for food, some to fight disease, some, perhaps, as pets.

A new study of high-growth firms in Greater Washington, D.C., highlights the role of community in a thriving economy.

Downtown Silver Spring, Maryland. (Elvert Barnes/Flickr)

The past decade or so has seen the rise of a new formula for urban economic growth and development. While having a solid business climate that attracts companies and jobs remains important, it is also necessary to cultivate a vibrant, exciting community with a wide diversity of talent. This is true not only in cities and urban centers—which have been attracting young people thanks to what Alan Ehrenhalt dubs the "great inversion"—but in the suburbs as well. In fact, a recent study of 84 suburban areas found that vibrant, dense, mixed-use suburban areas performed better and were preferred over lower-density, auto-dependent office parks.

A new study published in the journal The Professional Geographer, by Emil Malizia at the University of North Carolina at Chapel Hill and Yasuyuki Motoyama at the Ewing Marion Kauffman Foundation, takes a closer look at this connection between community vibrancy and economic growth in urban and suburban neighborhoods—this time looking at Census tracts across the greater Washington, D.C. region.
The white supremacists who shot Black Lives Matter protestors qualify as terrorists—but we won't call them that

(Credit: AP/Bradley C Bower/Reuters)

The script has gotten familiar by now: Ideologically driven Muslim or foreigner does something violent and awful, and they are dubbed a terrorist. Ideologically driven white person does something violent and awful, and the term rarely comes up.

That's the way the latest act of public violence – the shooting, by white supremacists, of five Black Lives Matter protesters in Minneapolis last night – has worked out. Black Lives Matter Minneapolis has called this an act of "domestic terrorism." But it's harder to find in the news media. What does the term "terrorism" mean in the lingua franca?

The United States continues to be peculiar in handing out powerful magazine-fed firearms to almost anyone who wants one and not requiring background checks on private purchases even if these are made at gun shows. 80% of civilian-owned firearms world-wide are in the US, and only Yemen vaguely competes with us for rates of firearm ownership; Yemen is a violent mess with Shiite insurgencies, al-Qaeda taking over cities from time to time, tribal feuding, southern separatism and US drone strikes. And even it has fewer guns per person than the USA.

The right to have an abortion is about bodily integrity, equality and, yes, family

'Respecting families means respecting women's life choices.' (Photograph: Olivier Douliery/Getty Images)

As the election looms, the Republican's transparent efforts to appeal to women in the only way they know how will only intensify. As it does, I hope the Democrats will recognize the opportunity they have and call out the right on the shocking hypocrisy of claiming to be pro-women or pro-family while continuing their witch hunt against Planned Parenthood and efforts to stop women from obtaining legal abortions.

The objective reality that Muslims in New Jersey didn't cheer on 9/11 – or anything else – doesn't matter when the "truth" is just a matter of perspective

Trump will keep saying things like that, and by the time journalists are done disproving the last spurious claim, he will be on to the next one. His campaign website might as well be Snopes.com. The only limits to Donald Trump are the limits of belief.

A shredded American flag at a grave site in Blackwater, Arizona. (Photograph: Steve Craft for the Guardian)

The local newspaper The Star Tribune reported that the five people shot were protesters. Black Lives Matter media contact Miski Noor told The Star Tribune "a group of white supremacists showed up at the protest, as they have done most nights." When the activists tried to get the white supremacists to leave, Noor said the racists "opened fire on about six protesters." Five were allegedly hit.

Individuals and creative organisations join Amnesty International to demand Saudi Arabia overturn Ashraf Fayadh's conviction for renouncing Islam

Ashraf Fayadh, right, with art historian Chris Dercon, at the opening of the former's exhibition in Jeddah. (Photograph: Ashraff Ayadh/Instagram)

Fayadh, who co-curated a show at the 2013 Venice Biennale, was originally sentenced to four years in prison and 800 lashes for apostasy by the general court in Abha, a city in the south-west of the ultraconservative kingdom, in May 2014.

He has denied the charges, which stem from a book of his poetry and a complaint lodged by a man who accused him of making blasphemous remarks during an argument in a cafe in the conservative city.

But after his appeal was dismissed, Fayadh, a key member of the British-Saudi art organisation Edge of Arabia, was retried and a new panel of judges last week ruled that he should be executed. He was given 30 days to appeal the ruling.

Dercon, who met Fayadh during a trip to Saudi Arabia two years ago, said he was a victim of the power struggles among reformists, pragmatists and ultraconservatives in the Gulf state. The art historian praised the exhibition Fayadh curated in Jeddah in 2013, Mostly Visible, as "amazingly courageous".

German chancellor rejects criticism of open-door policy, saying Europe must tackle the causes of the migration crisis by working for peace in Syria

Angela Merkel told the Bundestag that the security threat level in Germany was high, but people must carry on with normal life. (Photograph: Adam Berry/Getty Images)

François Hollande declared France is at war, but it is the uncompromising Valls who is overseeing the country's response to the Paris attacks

Manuel Valls said the fear of a mass terrorist attack on France had kept him awake at night. (Photograph: Etienne Laurent/EPA)

The huge post-credit crunch buying up of urban buildings by corporations has significant implications for equity, democracy and rights

A city is a complex but incomplete system ... Manhattan. (Photograph: Bloomberg via Getty Images)

Ten days after the Paris terror attacks, Europe remains on edge. Police in Belgium, anticipating a similar assault, are on highest alert as they press the hunt for the surviving attacker with the help of law enforcement in neighboring nations. In France, the massive investigation continues. Spain and other nations have intensified defenses against a terror offensive against the West by the Islamic State. Weary, tense and somber after the bloodshed, top law enforcement officials from three countries spoke to ProPublica about the threat and and response. Three asked for anonymity because of the dangers they face and because they are not authorized to speak publicly.

Russian president calls Turkey 'accomplices of terrorists' and says it was 'obvious' that plane posed no threat

The Turkish military said it scrambled two F-16 fighter jets after a plane penetrated Turkish airspace in the province of Hatay at 9.20am on Tuesday morning, warning it to leave 10 times in five minutes before it was shot down.

This latest incident highlights the grave risks of clashes of arms between the various international forces that have intervened in Syria. A coalition led by the US is conducting an ongoing campaign against Isis in the country, and American and Russian officials have worked on ensuring there are no clashes between their forces as they pursue their separate campaigns.

Poor insulation and high energy prices mean many people will be cold, says Age UK – and support is inadequate

Paris climate deal could render oil, gas and coal projects worthless with US, Canada, China and Australia most vulnerable to losing billions

An oil rig in Culver City, California, US. (Photograph: David McNew/Getty Images)

The world's nations aim to seal a UN deal in Paris in December to keep global warming below the danger limit of 2C. The heavy cuts in carbon emissions needed to achieve this would mean no new coal mines at all are needed and oil demand peaking in 2020, according to the influential thinktank Carbon Tracker. It found $2.2tn of projects at risk of stranding, ie being left valueless as the market for fossil fuels shrinks.

The report found the US has the greatest risk exposure, with $412bn of projects that could be stranded, followed by Canada ($220bn), China ($179bn) and Australia ($103bn). The UK's £30bn North Sea oil and gas projects are at risk, the report says, despite government efforts to prop up the sector. Shell, ExxonMobil and Pemex are the companies with the greatest sums potentially at risk, with over $70bn each.

The failure of the fossil fuel industry to address climate change is laid out in a second report on Wednesday, in which senior industry figures state there is "a significant disconnect between the changes needed to reduce greenhouse gas emissions to the [2C] level and efforts currently underway".

Move would allow Pfizer to transfer headquarters from US to Ireland, cutting corporate tax range despite US Treasury effort to block such deals

---

"Regardless of what Fayadh said or didn't say, Saudi Arabia should stop arresting people for their personal beliefs," said Sarah Leah Whitson, Middle East director. "The fact that Ashraf Fayadh is facing the prospect of being beheaded only adds to the outrageousness of this court ruling."

The Guardian reported that Fayadh was born in Saudi Arabia and is a member of the British-Saudi art organization Edge of Arabia, and has curated art shows in Jeddah and Venice.

"Regardless of what Fayadh said or didn't say, Saudi Arabia should stop arresting people for their personal beliefs," said Sarah Leah Whitson, Middle East director. "The fact that Ashraf Fayadh is facing the prospect of being beheaded only adds to the outrageousness of this court ruling."

The Guardian reported that Fayadh was born in Saudi Arabia and is a member of the British-Saudi art organization Edge of Arabia, and has curated art shows in Jeddah and Venice.